Are you in search of an Air Purifier for your home? Which is the best Air Purifier that suits your home and your budget? Let's find out.
Air quality is deteriorating rapidly in numerous cities in India due to ever increasing number of vehicles and emissions from industries. Air purifiers are becoming a necessity in every household to keep you and your family healthy and away from the diseases caused by the polluted air around you. This has given rise to a large number of air purifiers in the market that you can choose from. Let us find which air purifier best suits your home.
---
Philips 1000 Series AC1215/20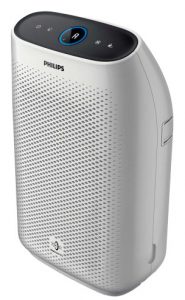 MAIN FEATURES:
Dimensions : 32.5cm x 21.1cm x 54.1cm : 6.76 Kg
Clean Air Delivery Rate (CADR) : 270 m³/hour
Filter Type : Activated Carbon, HEPA
Power : 50W
Coverage Area : Up-to 63 m²
Warranty Period: 2 years
Philips is a well known and trusted home appliances brand in India because of their quality products and reasonable pricing. The Philips AC1215/20 Air Purifier is no exception. It has an Auto-Purification Mode which automatically boosts the performance when air quality falls below safe level.
Moderns Air Purifiers are 100% Ozone free, thus protecting both your family and the environment.
It also has Healthy Air Protect feature which alerts you when the filters need to be replaced and Real-Time Air Quality feedback which tells you about the current air quality in your home. This air purifier is perfect for a medium sized bedroom. With the Philips AC1215/20, you can be assured of a reliable product and fresh air in your home. Along with the 2 years warranty, it should be your first choice if you are looking for the best air purifier for your home.
---
Mi Air Purifier 2S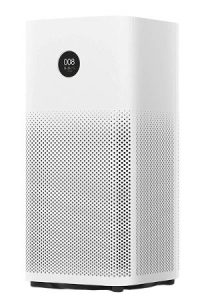 MAIN FEATURES:
Dimensions : 24cm x 24cm x 52cm : 4.8Kg
Clean Air Delivery Rate (CADR) : 310 m³/hour
Filter Type : H11-grade filtration technology, Activated Carbon
Power: 29W
Coverage Area : Up-to 37 m²
Warranty Period : 1 year
This Air Purifier is brought to you by the popular brand Xiaomi. This is a feature packed product, as you have come to expect from the Xiaomi brand. It has an OLED display which shows Real-Time PM2.5 concentration, temperature and humidity in your home. This air purifier boasts of cleaning a small to medium sized bedroom in 10 minutes, which is very much credible given it's best in the category CADR and a 360° cyclical air filtration pathway .
Mi 2S has a sleek and modern design. It can reduce the PM2.5 concentration in your room from 300 (very unhealthy in Air Quality Index) to less than 70 (Moderate in Air Quality Index) in 30 minutes with just 29 Watts of power consumption.
One of the big reasons why the Mi Air Purifier 2S is labeled feature packed is the Mi Home App. With this app you can control the air purifier from anywhere. You can check the air quality, temperature, humidity, adjust fan speed and set timer. The app also automatically alerts you when it's time to replace the filter. It also works with Alexa.
---
Honeywell HAC25M1201W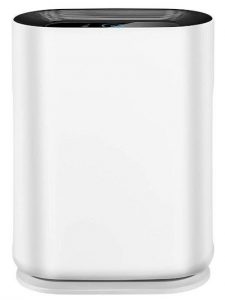 MAIN FEATURES:
Dimensions : 26cm x 45cm x 55cm : 8.64Kg
Clean Air Delivery Rate (CADR) : 250 m³/hour
Filter Type : Activated Carbon, HEPA
Power : 53W
Coverage Area : Up-to 30 m²
Warranty Period : 1 year (Additional 2 years warranty when registered online)
At first glance, this air purifier doesn't offer anything new or better as compared to the Philips AC1215/20 or Mi Air Purifier 2S. But what it offers is a top of the line design and a customer service network which is second only to Philips. And if a longer warranty period is your requirement, this product ticks the box with the additional 2 years warranty.
Air Purifiers can also be extremely useful if someone in your family is allergic to dust. They can also filter the air to remove airborne allergens.
---
Hindware Moonbow AP-A8400UIN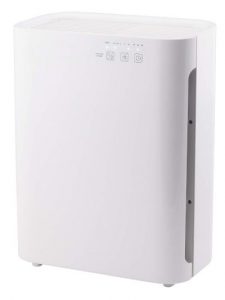 MAIN FEATURES:
Dimension : 32.4cm x 16.2cm x 40.9cm : 4.2Kg
Clean Air Delivery Rate (CADR) : 215 m³/hour
Filter Type : HEPA, Activated Carbon, UV Lamp
Power : 55W
Coverage Area : Up-to 37 m²
Warranty Period : 1 year
The main attribute of this air purifier is it's price. It's priced well below the other air purifiers mentioned above without compromising much. It is best suited for small to medium sized bedrooms. So, if you are on tight budget and happen to be searching for an air purifier for a medium sized room, it can turn out to be the best value for your money. And to make the deal even better, it comes with an UV Lamp along with all the standard filters to purify your air.
Air Purifiers are now a necessity in your home rather than a luxury, like refrigerators, given the rapid increase in air pollution.
---
Philips 2000 Series AC2882/20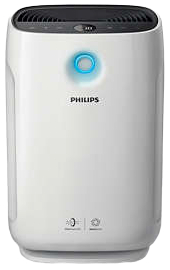 MAIN FEATURES:
Dimension : 36.8cm x 25cm x 56.8cm : 7.7Kg
Clean Air Delivery Rate (CADR) : 324 m³/hour
Filter Type : HEPA, Activated Carbon
Power: 56W
Coverage Area: 38 m²
Warranty Period: 2 years
The Philips AC2882/20 is of a different category as compared to the air purifiers mentioned above. So far we have compared air purifiers best suited for bedrooms of various sizes in your home. The Philips AC2882/20, with it's exceptional CADR, is capable of cleaning living rooms and large bedrooms. It can also boost the CADR up-to 344 m³/hour, if required. In spite of having larger dimensions and higher CADR, it can work very silently without causing any discomfort.
Air Purifiers automatically turn down their performance and reduce CADR once your room's Air Quality Index falls back to safe level to reduce power consumption and noise produced.
---
Terms Explained
What is the Clean Air Delivery Rate (CADR)?

It is the rate or volume of clean air that the air purifier will deliver in an hour. Higher CADR means better performance.
What is an Activated Carbon Filter?

It is a filter made up of a bed of activated carbon which aides in Carbon filtering. Carbon filtering is filtering technique that removes odour, impurities, harmful gases and Volatile Organic Compounds using chemical adsorption
What is HEPA filter?

High-Efficiency Particulate Air (HEPA) is an efficiency standard of air filter. This shows how efficient the Air Purifier is in removing pollutants.
What are PM2.5 particles?

PM 2.5 is an atmospheric particulate matter of diameter of fewer than 2.5 micrometers. It causes respiratory problems and reduces visibility.
---
Read More: Want to make your contribution in reducing air pollution? Have a look at best electric scooters in India in 2020
Conclusion
We have gone through the list of the best air purifiers that you can purchase for your home according to your requirements. Maximum effort has been put in to make this article your one stop guide and simplifying the process of buying the best air purifier for your home. With the plethora of air purifiers being pushed into the market, from various brands and varying capacities and features, you won't have to waste your time exploring the inter-web while also getting the best product.
Also, make sure to do your bit in reducing pollution. The problem of pollution can be overcome only with the collective effort of each and every citizen. Let us all come together and save the environment because it is not an impossible task if we do it collectively. Let us join our hands so that our future generations won't have air purifiers as a necessity in the household, to ensure that each and every person, rich or poor, can have clean air to breath. Me must come together to save our aquatic ecosystem from being suffocated by plastic and make this world a better place and treat this planet like our home because it is our home.
Feel free to express your thoughts or ask anything in the comments section below.
Thank you for reading 🙂