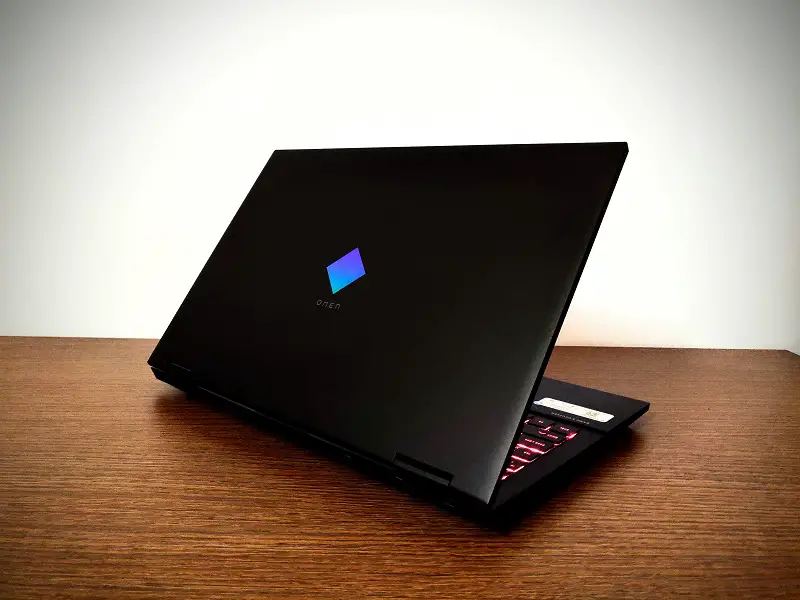 Pros | HP OMEN 15 has one of the best cooling system in any thin and light gaming laptop in 2020, combined with high-end hardware from Intel, AMD and NVIDIA results in amazing performance.
Cons | It does not support Windows Hello neither does it have a fingerprint scanner. The included charger could be better.
Bottom Line | The HP OMEN 2020 is available in many variants, starting from ₹75,000. It has something for everyone and with its excellent performance, you won't regret getting one for your gaming or media creation purpose.
Rating
Design – 8.5/10
Display – 9.5/10
Connectivity – 9.5/10
Performance – 9.5/10
Battery – 8/10
Overall – 9/10
This hands-on review is based on the HP OMEN 15-ek0021TX model.
---
Design
The HP OMEN 15 has a very minimalist and clean design this year, which was not the case in earlier HP OMEN variants. It has a plastic top and bottom which doesn't feel cheap in any way, and has a metal deck which is sturdy and has almost zero flex.
The lid has the colourful Tribal Mask logo, which is reminiscent of the old VooDoo range, the predecessor to the modern-day OMEN.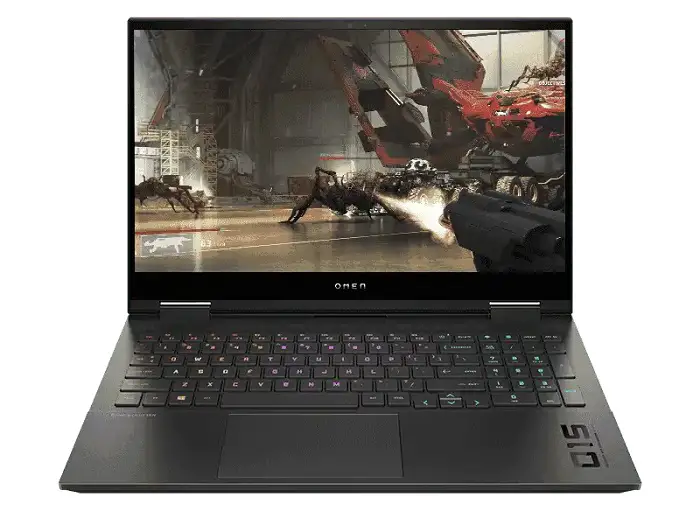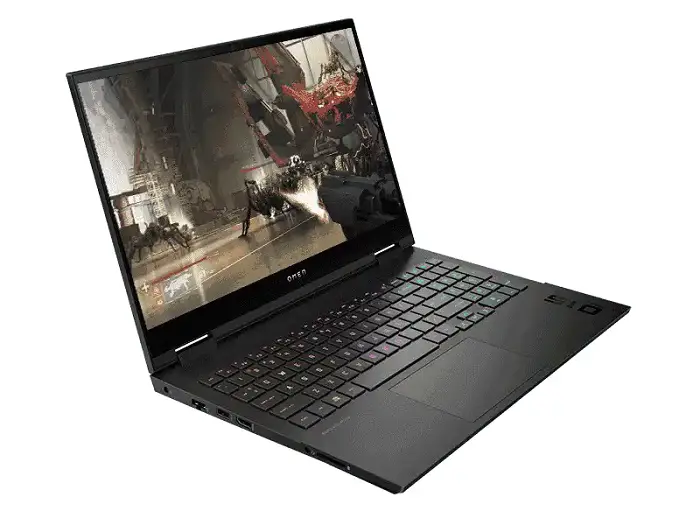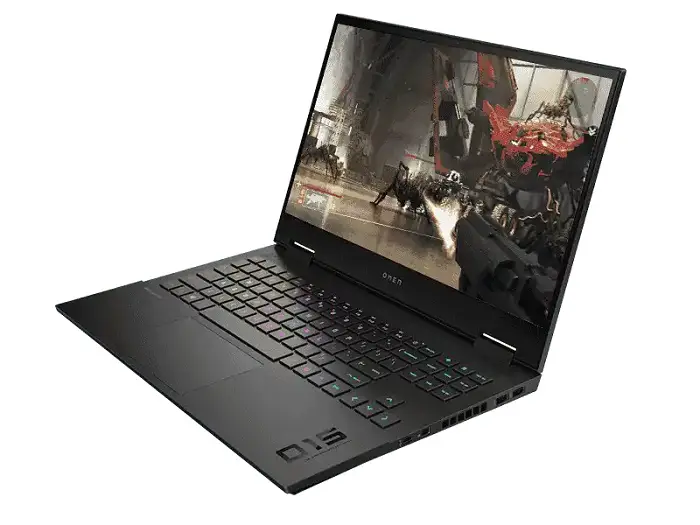 The HP OMEN 15 feels compact overall; it is in fact smaller than my previous 15″ notebook which had huge bezels to start with. It has a wide webcam which is placed above the screen, where webcams should be placed. The quality of this webcam isn't fantastic but it does its job decently. It would have been great if HP included Windows Hello feature, even if only in the higher end models, but it is absent altogether in the HP OMEN 15 2020.
HP OMEN 15 has a decent keyboard with options for 4-zone RGB backlit or only red. Personally, if you can get your hands on a 4-zone RGB keyboard then you should definitely go for it, it is just so much better. However, the quality of keys is same regardless of their lighting options. One thing to keep in mind is that some models come with a number pad and some without it. We could not figure out how this is classified but keep this in mind while purchasing if you have a preference for one or the other.
Display
The HP OMEN 15 line-up comes with various display options. These are anti-glare displays start with a 60 Hz panel and going up to 144 or 300 Hz FHD with a 1920 x 1080 resolution. The display quality is excellent and there aren't many better displays (with respect to refresh rate, colour gamut and the viewing angles) in the FHD IPS department. The display quality is not the best in the 60 Hz variant, so that is something that you should keep in mind while purchasing that variant. It has small bezels on three sides with a relatively large bottom chin and a 720p webcam on top (where it should be).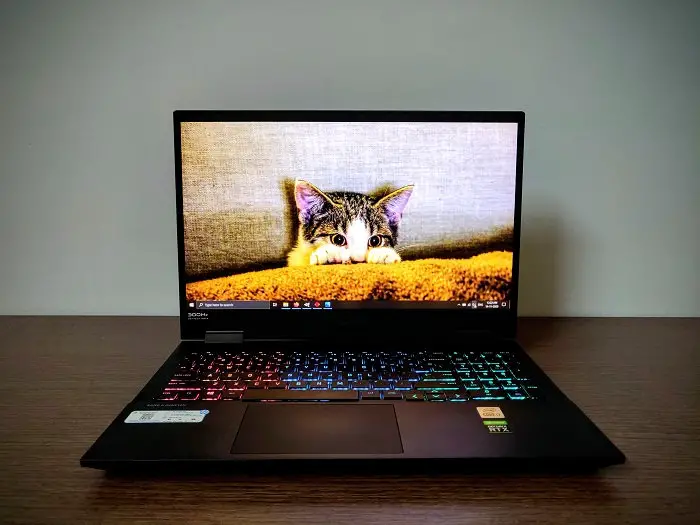 The OMEN 15 also has a variant with 4K UHD OLED display that can be useful for media editing applications or any other use that requires extremely accurate colour accuracy.
Colour accuracy details and numbers add here.
| | |
| --- | --- |
| Variant | Colour Accuracy and Brightness |
| 60Hz IPS FHD (1920 x 1080) | 45% NTSC (250 nits) |
| 144Hz IPS FHD (1920 x 1080) | 72% NTSC (300 nits) |
| 300 Hz IPS FHD (1920 x 1080) | 100% sRGB (300 nits) |
| 60Hz 4K IPS OLED (3840 x 2160) | 100% DCI-P3 (400 nits) |
Connectivity and Ports
HP OMEN 15 2020 offers plenty of options in this department. It has an Intel Wireless Chipset supports Wi-Fi 6 and provides excellent data transfer rates with consistency. With the support for Bluetooth 5, it offers fast pairing and reliable connection for wireless earphones, gaming controllers or whatever it may be.
The HP OMEN 15 has a decent selection of ports with 3 SuperSpeed USB Type-A ports, one Mini DisplayPort™, an Ethernet port (RJ-45), a USB Type-C Thunderbolt, an HDMI 2.0a port and one headphone/microphone combo jack. It also has a full size SD card reader.
Thunderbolt is exclusive to Intel models. However, AMD models do have a standard USB Type-C port.
Performance
Performance of the HP OMEN 15 2020 can vary depending on the model you purchase as it comes in numerous configurations. However, there is no doubt that there are a handful of laptops in 2020 that can outperform, or even match, its price to performance ratio.
The HP OMEN 15 comes in both Intel and AMD variants with the Intel variant maxing out at Intel® Core™ i7-10750H (2.6 GHz base frequency, up to 5 GHz with Intel® Turbo Boost Technology, 12 MB L3 cache, 6 cores). The AMD variant goes up to Ryzen™ 7 4800H (2.9 GHz, up to 4.3 GHz, 4 MB L2 cache, 8 cores)
In the GPU department, it begins with a GTX 1650 and goes all the way up to RTX 2070 Max-Q Super.
One of the biggest factors contributing to its excellent performance is the new cooling system. With the OMEN Tempest Cooling Technology, it has 3-sided venting and 5-way airflow ensure optimal system stability and performance when gameplay heats up. The amount of air that this laptop can circulate through its dual-fan cooling system is mind blowing. HP has increased the fan size and this allows for more air-flow compared to the previous generation OMEN laptops.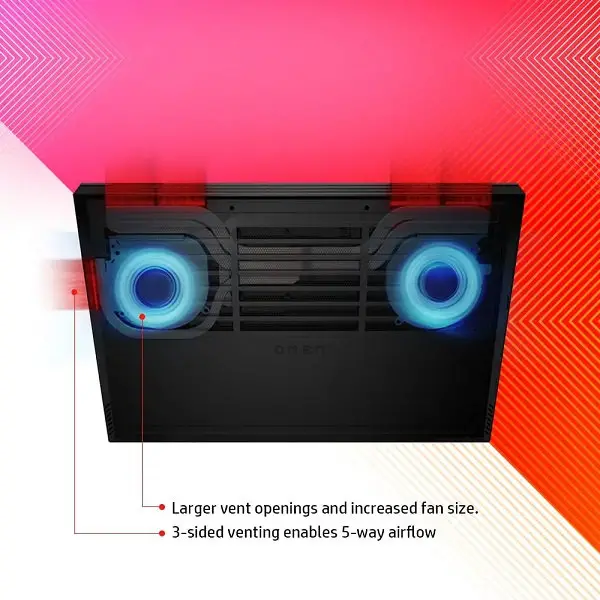 And judging by the performance of this laptop, the redesigned cooling system lives up to its claims. The OMEN 15-0021tx handles PUBG at ultra graphics without any issues, providing a stable frame of 85+ fps.
OMEN Command Center
The OMEN Command Center adds to the functionality and performance of this gaming laptop. It provides control over system performance with network booster, keyboard lighting, performance control and graphics switcher options.
The performance control option offers balanced and performance mode and they do exactly what their names suggest. In balanced mode, the fan speed is reduced which makes it suitable for work or normal daily usage without much noise produced by the fans. Performance mode is ideal for heavier tasks like gaming and media editing which require higher CPU and GPU performance. This mode allows the fans to operate at higher speeds to deal with excess heat produced. The performance control setting also provides option to set the fan speed to auto, manual or max mode.
Keyboard lighting section allows to control the keyboard backlight (depending on the type of backlight selected while purchasing).
---
Graphics switcher is where we can toggle NVIDIA Optimus. It has two options: Hybrid and Discrete. In hybrid mode, both integrated and dedicated graphics are used with integrated graphics being used for normal, daily operations like productivity, media consumption, internet browsing, etc. In discrete mode, all tasks are handled by the dedicated NVIDIA graphics and is suitable for gaming, media creation and other graphics intensive tasks. In the OMEN Laptop – 15-ek0021tx, discrete mode provides anywhere from 10 to 40% performance improvement over hybrid mode in games such as PUBG, VALORANT, Raft, Rocket league, etc.
Hybrid Mode does offer lower fan speed as less heat is produced when using integrated graphics. The laptop automatically toggles between integrated graphics and dedicated graphics in Hybrid Mode according to requirement.
Battery
The battery of HP OMEN 15 does not stand out among the rest. It has an average battery life of around 3-4 hours on light usage, which is what we have come to expect from gaming laptops now-a-days. However, the laptop does come with a charger capable of fast charging and it charged my laptop from 7% to 100% in around 100 minutes.
---