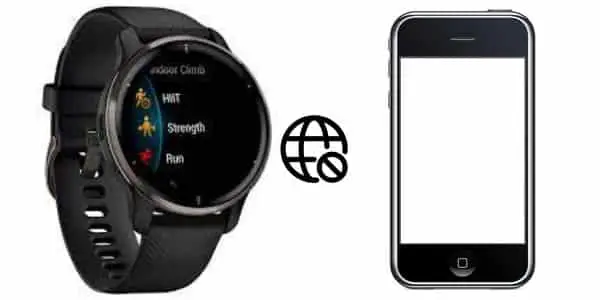 Many users report a common issue with Garmin smartwatches; their watch keeps disconnecting from the phone. As a Garmin user, I have been facing this for the last few days. I have been a Garmin user for the last couple of years, but I have never faced this issue before. 
So, I have researched this problem and concluded several methods to fix it. If you are also experiencing this problem, don't worry today, I will share this with you. 
Let's get started!
How to Fix Garmin Venu Keeps Disconnecting from Phone
These are possible solutions that you should try first to fix the connection problem. 
Quick Fixes
While the Venu is disconnecting fix it by restarting your phone and watch 
Remove the watch from phone's Bluetooth and Connect app and pair it again
Check if the Bluetooth or WiFi is off, turn it on now
Ensure your devices have installed the latest firmware update 
Update your Garmin Connect app 
Keep your watch closer to the phone into a Bluetooth pairing range 
From the phone settings allow the Connect app to run in background 
Remove all other connected device from app
Get in touch with the customer support team 
Restart Garmin Venu and Phone
When your Garmin Venu disconnects from the phone, you should restart your phone and watch. It will be helpful to fix the issue. The connection issue can be due to software glitches, and restarting the devices will remove these glitches.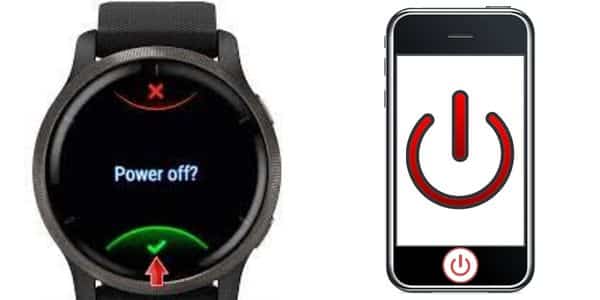 If your watch or phone is working slower and is not performing well, you can restart them; that will help fix it. 
You can follow the below steps to restart the Garmin Venu and phone. 
Garmin Venu
Press and hold the upper buttons from both sides of the watch 
Let them go after the screen goes blank (about 15 seconds) 
When the watch is powered off, press and hold both upper buttons to turn it back on 
Release the buttons while the Garmin logo appears on the screen 
Mobile Phone 
Long press the power button
Let it go while the power menu appears on the screen 
Tap on Restart
Wait until the phone completes the reboot and turn it back on 
Re-Establish Connection 
If the issue persists, you should re-establish a connection between your Venu and phone. You have to remove the watch from the Connect app and mobile Bluetooth. When it is completely removed from here, you should pair it again with your phone.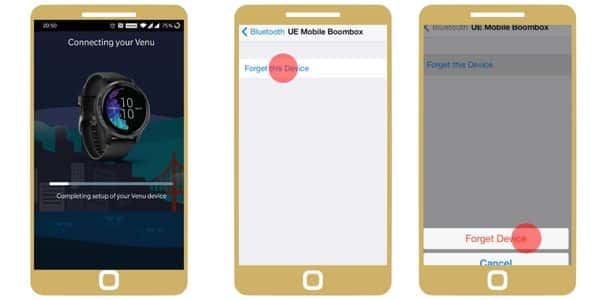 Because sometimes the connection issue can be due to glitches or caches, this method will remove those glitches from your devices.
Remove from Connect App
Open the Garmin Connect app on your phone 
Then tap on " ⠇the" More icon from the bottom right corner 
Scroll down and tap on My Garmin Devices 
Then you should select your Venu from here
From the top right corner, tap on three "⠇" dots menu 
And tap Remove Device> again tap from the confirmation message Venu
Remove it from Bluetooth 
Open phone settings> then select Bluetooth Settings 
Under this menu, find Garmin Venu 
Tap on the "i" info icon 
And then tap Unpair/ Remove 
When you have removed the Garmin watch from the app and Bluetooth, you should pair it with your phone again. Check if re-establishing the connection is working for your watch.
Turn Bluetooth and WiFi On 
Smartwatches sync their data via Bluetooth and WiFi, so if one of them is disabled, your watch can disconnect from the phone. You should check your Bluetooth and WiFi settings; ensure that they are enabled. 
If they are on and your watch keeps disconnecting, you should read the following troubleshooting steps. 
Check for Firmware Update 
Software glitches can persist if the watch is not up to date. Because the latest software or firmware removes glitches from your devices and provides new features. You should check to ensure that you have updated your watch's firmware.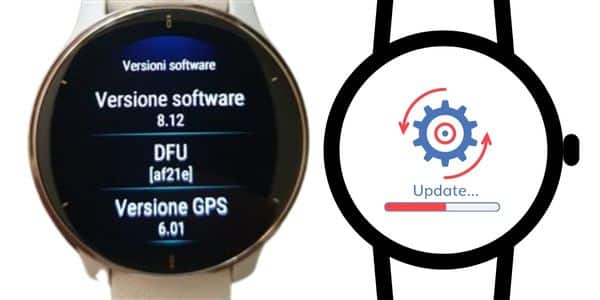 If the firmware is not installed yet on your devices, you should instantly install it. You can follow the below steps to do this.
Plug Garmin Venu into the computer via a USB cable 
Then download and unzip Venu_730Beta.zip the software file 
And then place the GUPDATE.GCD file into the \GARMIN directory of the device
Disconnect your Venu from the computer and approve the update from your watch. Wait until the update finished 
You can do this on an IBM-compatible PC running Windows 7 SP1, and you will need a USB cable to connect to PC 
If you want to read more in detail you can visit, how to update Garmin Venu? 
Update Connect App
Check the Garmin Connect app and ensure you have updated this app. If you have not installed its latest version, you should check and update it instantly. Because an un-updated app also causes connection problems. 
You have other benefits of updating the app: using new features and improved security. If the app is not working or crashes, you can update it to the latest version. 
You can follow the below steps to update your Garmin Connect:
Open Google Play Store (Android) 
Tap on the Profile icon from the top right corner 
Then select Manage app & Device 
Here you will see the app labeled Update available 
You should check if the Garmin Connect has an available update, then tap on Update 
You can read complete guidance on, How to update apps on Android? 
Keep the Devices Closer 
Your Garmin Venu is commonly disconnected because your watch is not in the Bluetooth range. Because it plays a vital role in connecting your watch with your phone. If the watch is not closer to the phone, you can face connection problems. 
The maximum pairing range for Bluetooth is about 10 meters (32 feet). If your watch is not in this range, it can keep disconnecting due to weak signals. 
Sometimes this range can be affected for several reasons, such as radio waves, wind, and buildings or trees. 
Allow to Run in Background  & Force Quite 
You should check that your app has permission to run in the background. Because if it is not permitted to run in the background, it can stop data syncing, and your watch keeps disconnecting.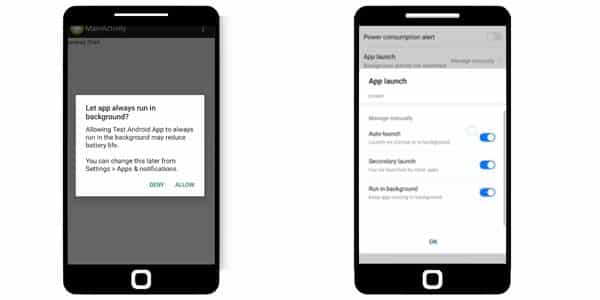 On the other hand, you should force Quit/ Stop the Garmin Connect app while your watch disconnects from the phone. Because caches can be stored on this app, force-stop will help fix this issue. 
Open phone settings 
Then scroll down and tap on apps management 
And then tap apps settings> find the Garmin Connect app in the app list 
Tap on the Connect app icon 
And from the bottom right corner, tap on Force Stop the app 
On the left side, tap on Remove Caches if the app has caches 
Remove other Paired Device OR Keep them Away 
If you have paired more than one watch with your phone, you should remove all the other devices except the Venu. You should also keep them away from your phone if one of them is still connected. 
Because these devices can interfere with the Venu device connection. And due to the several connections, your phone does not recognize your Venu; as a result, it keeps disconnecting.
Contact Support Team 
After all, you have tried all the steps mentioned above, and your Garmin Venu is still disconnecting from your phone. You should contact Garmin customer support.
Customer Support will assist you with other possible solutions. Generally, they will reply quickly, but in a few cases, it might take longer, so wait until they provide you possible solutions.

However, if you are having trouble with a new watch, you should replace it. Because the watch might have a manufacturing fault that can only be fixed by Garmin.
You should also read:
Garmin Vivoactive 4 Is Not Charging
Garmin Forerunner 35 Not Charging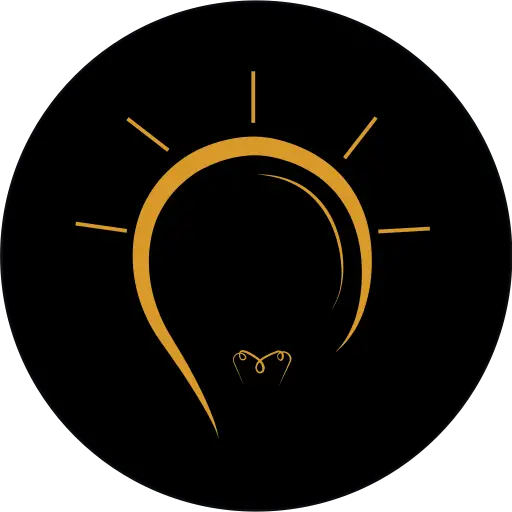 Inkcue brings to you the latest and best in tech industry with reviews, buyer's guide, technical know-how and problem solving. Our aim is to provide a one-stop guide to all your technological needs and to simplify the process of purchasing them. Cheers Amigos!