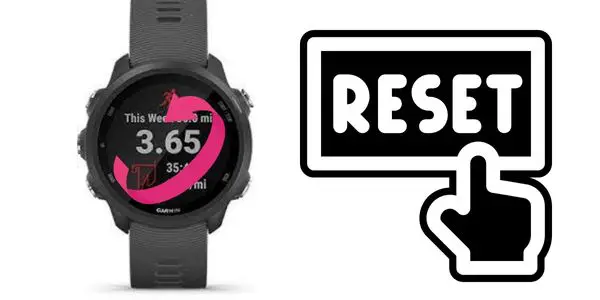 If your Garmin Forerunner 245 is slowing down or working incorrectly, and you want to reset the watch to remove the software glitches, it's the right decision.
As reset will remove saved data and caches from the devices and as a result devices will operate normally. 
So, you should hold the up button from the watch face> and then select Settings> then you have to select Reset> there will be 4 different options to reset the Garmin watch> and select one of them. 
Let's take a deep look at this process: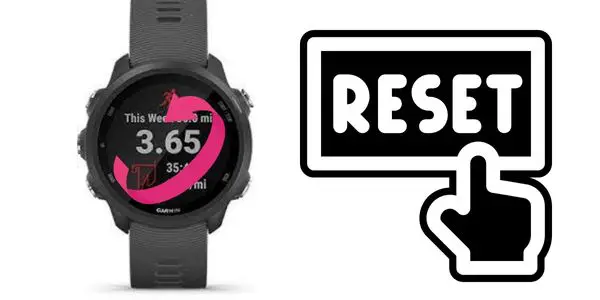 How to Reset Garmin Forerunner 245? 
If your Garmin Forerunner 245 is frozen or unresponsive and you want to reset it, it contains a few simple steps mentioned below. 
Before resetting your Garmin device, you should have known resetting the watch would wipe all your essential data. You should back data before resetting it. 
Follow the below steps to reset the watch. 
Hold the UP button from the watch face.
And then select Settings ⚙️
Under the settings menu, select Reset. 
And there will 4 different options; select one of them:
To restore all the settings to the factory default and keep saved data, you should select Reset Default Settings.
To delete activities from the history, select Delete All Activities. 
If you want to reset time tools and total, select Reset Totals. 
To delete all settings to factory default and the activity information from the watch, select Delete Data And Reset Settings.
Your purpose in resetting the Garmin watch can be different, but the steps are the same. Follow the above steps to reset the watch to factory settings default. 
Resetting the Garmin watch has several benefits, such as it removes software glitches, removing activity data and fixing insufficient storage problems. 
Besides that, it is helpful when you want to replace or sell your Garmin watch; you can remove your data from it with the simple step to reset it. 
We suggest watching this video with the detailed method. 
How to Backup data on Garmin Forerunner 245
If you are considering resetting your Garmin Forerunner 245, you should have to know that resetting will remove data from the device. So, you should set up a backup to save the essential data. 
Plug the watch into the computer 
Press the Window + E key from the keyboard 
Then tap on This PC 
Double-click on the Garmin device drive 
Then open the Garmin folder 
And open the Locations folder and copy past the locations. Fit file to another easily found location 
Return back and repeat this step again and again until the data complete 
In this way, you can back up your data to your PC. Then, follow the below steps: How Do I Transfer the Files to a Device?
Plug the device into your computer 
Open the file location on your pc
Then select the file that you have previously copied!
Use Ctrl Key on the keyboard to select multiple files on your computer and then copy these files 
And then press the Window key +E on the computer 
Then click on This PC 
Double-click on the Garmin device drive 
Open a Garmin folder> open new files folder and paste them into the location 
We have suggestions. If, like many users, you want to know What Information on My Device Can I Back Up?
How do I force my Garmin Forerunner 245 to reboot?
You can simply reboot your Garmin Forerunner 245 from its physical buttons. You should follow the below steps:
Press and hold the Light button for 15 seconds to turn off the device 
Hold the Light button again to turn it back on for 15 seconds 
You should also read:
Reset Garmin Forerunner 35 (In one Minute)
Garmin Venu keeps disconnecting from phone
Can Garmin watch connect to Peloton
Pair Garmin Watch With ZWIFT (Easy Steps)
Garmin Vivomove Not Charging (9 Ways to Fix)
Garmin Watch Stuck On Saving (7 Ways to Fix)
Garmin Watch Keep Restarting (7 Ways to Fix)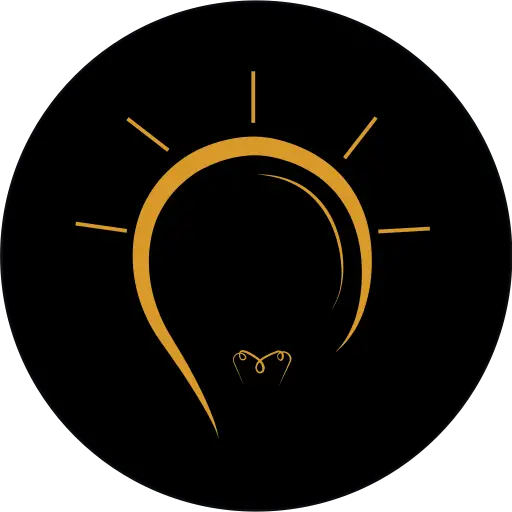 Inkcue brings to you the latest and best in tech industry with reviews, buyer's guide, technical know-how and problem solving. Our aim is to provide a one-stop guide to all your technological needs and to simplify the process of purchasing them. Cheers Amigos!