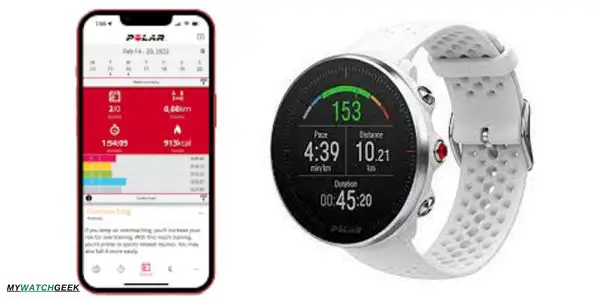 Is your Polar Vantage M not connecting to the phone? Are you looking for possible solutions? Several users are facing syncing or pairing issues with their Vantage M.
A few are reporting this issue with a new one. It's really annoying to anyone who is in this situation. But you should not be worried more about this issue; I am here and will share its possible solutions today. 
Let's get started!
How to Fix Polar Vantage M Not Connecting to your Phone? 
These possible ways that are working for several users might be helpful to you. 
Quick Fixes
Remove Vantage M from the Flow app and Bluetooth settings 
Install the latest update for your Polar and mobile phone
Reinstall the Flow app and check for the latest update 
Keep power or battery saver mode disabled 
Turn the flight mode OFF 
Keep your phone and Polar Vantage closer to each other 
Re-Establish Connection 
To begin with, an essential solution is that you should reestablish the connection between your Polar Vantage M and mobile phone. It will remove all connection and Bluetooth caches from your phone and fix the pairing issue.  
If you have a new Vantage M or connecting to another phone, you should remove it from the phone's Bluetooth settings and the watch. Further, if the phone is paired with the phone, but the data is not syncing, remove it from the Flow app. 
Once you remove your Polar watch from your phone, try connecting it to your phone again. Follow the steps below to do this: 
From Watch
Open the settings of your Polar Vantage M 
And tap General Settings 
Then tap Pair and Sync 
Scroll down and click on Paired Devices 
And click on the phone name 
Tap on the ✅checkmark icon from the confirmation message 
Bluetooth Settings 
On your phone, open the Settings app 
And then open Bluetooth settings 
Tap on paired devices 
Click the ⚙️settings icon> and tap on Forget/ remove 
Tap on Forget device from the confirmation message 
Check for Update
Once you have reestablished the connection, you should ensure the devices run on the latest software version. Devices that are running on an outdated software version might show these issues.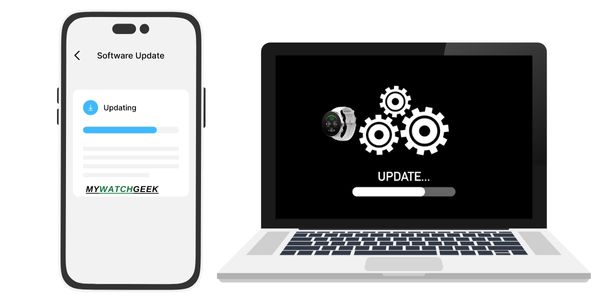 Installing the latest software versions will help to fix the connection issues. If you have verified your phone and watch are up to date, you should jump to the next step. 
You can update your devices by following the below steps: 
Polar Vantage M 
Plug your Polar Vantage M into your computer 
FlowSync starts syncing data 
After the syncing data, you will be asked to update firmware if the update is available 
Then tap on Confirm, and the update will begin installing (it may take some time) 
Your watch will restart once the update completed 
Mobile Phone 
Open the phone's Settings app
Scroll down and tap System 
And then tap System Update 
Here you will see the status of the update; if update is available, tap on Download and Install 
Re-Install App and Check for an Update 
If the watch's connecting issues are still not solved, you should consider reinstalling your Polar Flow app and then if the problem persists, you should check for the latest software update.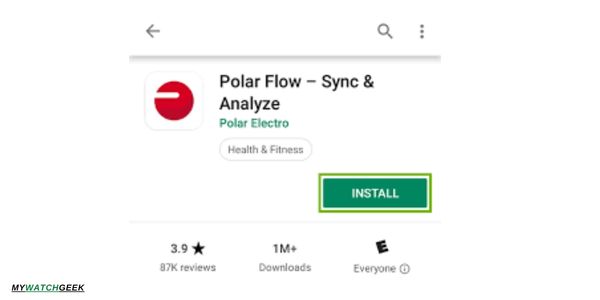 Delete the Flow app from your phone by following the below steps: 
Touch and hold the Flow app icon
And then select uninstall/ remove the app 
Once the app's setup is completely removed from your phone, you should go to the Google Play store (Android) or Apple Apps store (iPhone). And then, tap on the search bar and search for the Flow app. 
Tap on the first result with the official Flow app icon and tap on Install. It can take a few minutes if you have a slow internet connection. Once the app is installed, log into your account and verify the pairing issues are solved. 
Check for Updates:
Open Google play store (Android), Apple apps store (iPhone) 
Tap on the profile icon from the top of the screen 
Scroll down and find the Flow app and tap to start installing the update (iPhone) 
Tap on Manager apps & device; apps with the latest update will be labeled Update available (Android) 
And then tap on Update 
Turn the Power or Battery and Flight mode OFF. 
If your phone runs out of power, you should plug it into the charger and allow it to charge completely. So, while your phone's battery is low, the power saving or low power mode will be automatically enabled.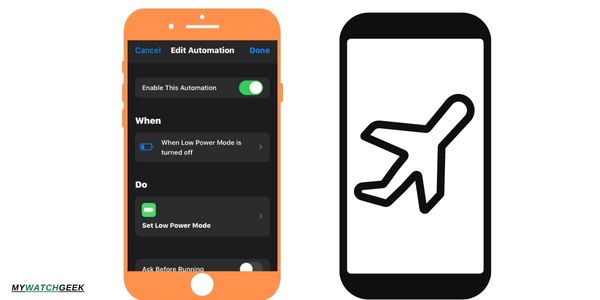 In the power mode, your phone will prevent pairing with the Polar Vantage M. You should ensure the power-saving features are OFF. 
Another reason might be the Airplane/ Flight mode; it turns the WiFi or Bluetooth OFF. As a result, your watch will not be able to connect to your phone. 
Check the Airplane mode if not enabled, and then connect Vantage M with your phone to verify the issue no longer persists. 
Keep it Closer to the Phone. 
Smartwatches use Bluetooth or WiFi connections to pair with the phone. If the watch is not in the pairing range of Bluetooth, it will fail to connect to your phone. So, you should ensure your Polar Vantage M is closer to your mobile and Bluetooth technology is enabled on your phone and watch. 
The maximum Bluetooth pairing range for your Polar watch can be about 10 to 35 meters. This range will reach up to 100 meters in an open field or outdoors. However, interference with radio waves or buildings will reduce this range. 
Connect the Customer Support 
Finally, you continuously face this connection issue with your Polar Vantage M; you should contact Polar customer support. They will be able to elucidate the problem and its possible solutions. 
Polar offers 2 years warranty with certain conditions; if the device fulfills them, you can get your watch replaced or repaired. 
Read Also:
Polar watch not charging (Solved)
Ticwatch keeps disconnecting (Solved)
Huawei watch is not charging (Solved)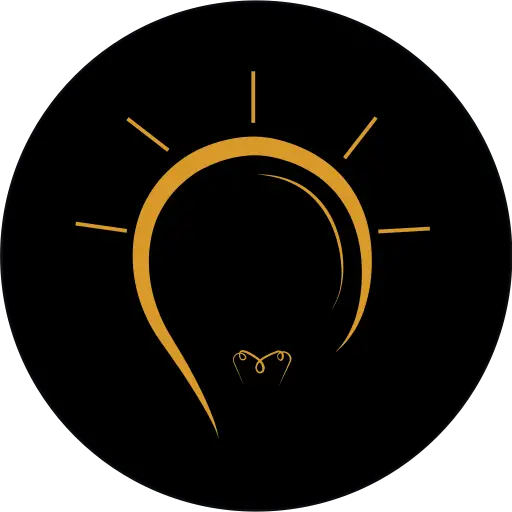 Inkcue brings to you the latest and best in tech industry with reviews, buyer's guide, technical know-how and problem solving. Our aim is to provide a one-stop guide to all your technological needs and to simplify the process of purchasing them. Cheers Amigos!