How to Make Glass in Minecraft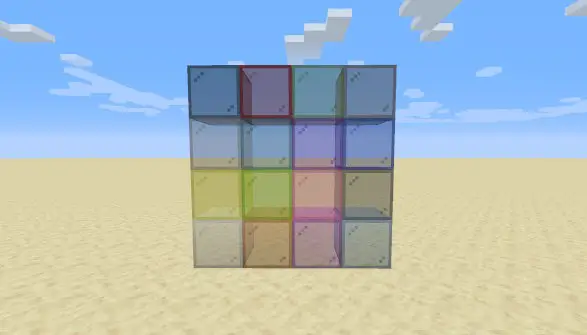 Glass is a transparent block in Minecraft which is mainly used for decoration and aesthetic purposes. It is also an ingredient in various other crafting recipes, which we will look in detail later. A peculiar characteristic of glass blocks is that when broken using a normal, unenchanted tool it drops nothing. To obtain glass blocks after placing them, players must use tools with the Silk Touch enchantment.
How to Make Glass in Minecraft
The recipe for glass requires sand, furnace and fuel for the furnace.
Place Sand in Furnace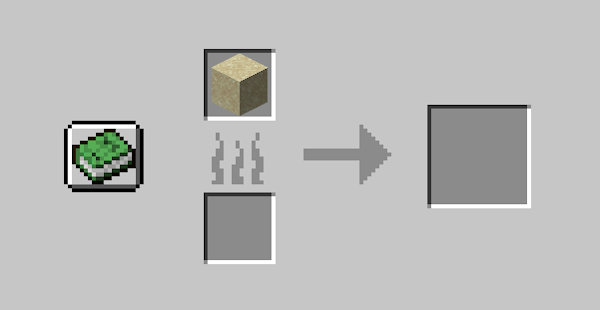 Place sand in the upper slot of the furnace. Up to a stack of sand i.e. 64 sand blocks can be placed at a time in a furnace.
Add Fuel in Furnace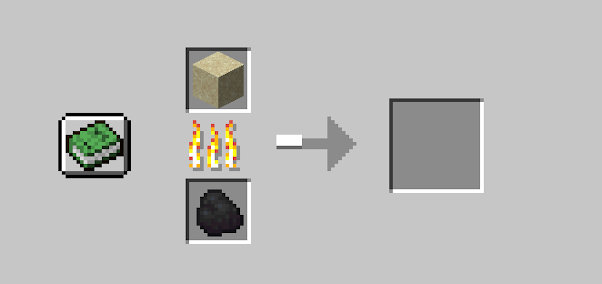 Now, place a fuel source in the lower slot of the furnace. 64 fuel sources can be placed at a time in a given furnace.
Obtain Glass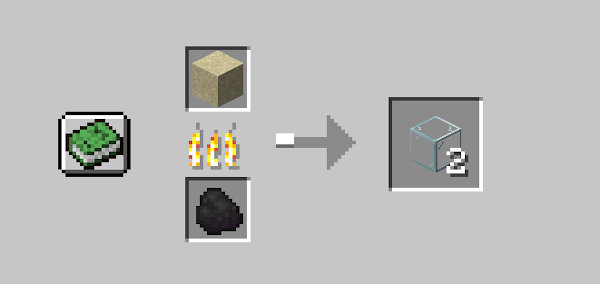 Once sand and fuel sources are placed in the furnace, it starts smelting automatically. Take out smelted glass from the furnace and start building!
---
Smelting glass is not much of a hassle but there are few things that should be kept in mind. Some fuel sources are more efficient than others, coal and charcoal are one of the most used fuels. However, there are other sources such as bamboo and dried kelp blocks which are also used to power the furnaces because of their ability to be mass produced.
When large amount of glass is to be smelted, a faster way to do it is by making a super smelter, which basically means making a chain of furnaces which can smelt all at once. These super smelters can vary in size depending on the requirements of the player and are also helpful in smelting other blocks as well.
Glass blocks don't behave same as other solid blocks in Minecraft, specially when it comes to redstone. Redstone dust and components can be placed on a glass block when it cannot be powered, which means it cannot be used for quasi-connectivity.
Another point to note is that mobs cannot spawn on glass blocks, which can be exploited while making your base in Survival Minecraft.
Stained Glass
Stained glass is the colour version of the normal glass block. There are 16 different types of stained glass. These are crafted by using glass blocks and matching dyes.
Crafting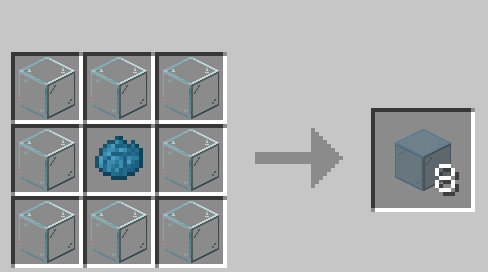 Stained glass of desired colour
---
White Stained Glass
Cyan Stained Glass
Lime Stained Glass
Orange Stained Glass
Magenta Stained Glass
Light Blue Stained Glass
Yellow Stained Glass
Pink Stained Glass
Gray Stained Glass
Light Gray Stained Glass
Purple Stained Glass
Blue Stained Glass
Brown Stained Glass
Green Stained Glass
Red Stained Glass
Black Stained Glass

---
Usage
Glass is a crafting ingredient in many other Minecraft blocks. Some of them are:
Beacon
Daylight Detector
End Crystal
Glass Pane
Stained Glass Pane
Glass Bottles
---
RELATED VIDEOS
Conclusion
We have gone through how to make glass in Minecraft. It is a versatile block with various uses and its availability in various colour option makes it a preferred choice for the builders in Minecraft. Glass blocks are such that they will be used by every minecraft player at a stage while playing the game, either for decoration or making some other blocks. It is a very versatile block and every minecraft player must the tips and tricks about how to make glass in Minecraft.
---
MORE FROM INKCUE
Rohan K. Prasad is an author at Tech Inkcue. He is an engineer with specialization in Electronics & Communication. He is an admirer of modern technology and covers electronic machines of any type.